Perfect Skating - Fall 2023
Regular price
$600.00 CAD
Regular price
Sale price
$600.00 CAD
Unit price
per
Sale
Sold out
PERFECT SKATING PROGRAM
Individual Skating Skill Development
** If your location is sold out - please fill out the form below and request to be put on the wait list should additional slots become available**

This is Power Skating evolved, developed from a kinesiological basis, our proven instructional methods that deconstruct and rebuild hockey skating movement to establish
efficiency, agility and speed
for athletes.  The method has been utilized by over 350 NHL players all the way through the spectrum of skill to relatively new and young hockey and ringette players.  Every detail is driven by the requirements of hockey skating and are accessible and foundational regardless of level.
Instructional material and methods are actively developed by Shawn Allard, who past led skill development within the French Olympic Hockey Federation, Skills Coach for Nashville Predators and currently Assistant Coach for the Colorado Avalanche.  Development has progressed for over 14 years.
Programming is developed from a kinesiological basis and has been refined through partnerships including motion capture laboratories with numerous Universities as well as CCM Hockey with whom we collaborate on the design and development of equipment.
Instruction is performed at a 4:1 player to coach ratio with no more than 12 players on the ice, thus ensuring players receive the necessary feedback on technique on every rep.
 Registration includes a Perfect Skating jersey and socks.
If you've questions you can reach us via the form below and we'll get back to you!
Schedule & Price
Notes:  Ice times are 700-800am unless noted otherwise.  Sessions run one day per week as specified for each program unless noted otherwise due to holidays or rink constraints.  
Monday 

Oakridge 

($750) 

 

Tuesday 

Cardel Rec 

($750)   

 

Wednesday 

VIVO 

($600)

8 Hour Program

630-730am

Thursday 

Triwood 

($675)   

9 Hour Program

Fri Sep-08-2023
Tue Sep-05-2023
Wed Sep-20-2023
Thu Sep-07-2023
Mon Sep-11-2023
Tue Sep-12-2023
Fri Sep-27-2023
Thu Sep-14-2023
Fri Sep-15-2023
Tue Sep-19-2023
Wed Oct-04-2023
Thu Sep-21-2023
Mon Sep-18-2023
Tue Sep-26-2023
Wed Oct-11-2023
Thu Sep-28-2023
Mon Sep-25-2023
Tue Oct-03-2023
Wed Oct-18-2023
Thu Oct-05-2023
Mon Oct-02-2023
Tue Oct-10-2023
Wed Oct-25-2023
Thu Oct-12-2023
Mon Oct-16-2023
Tue Oct-17-2023
Wed Nov-01-2023
Thu Oct-19-2023
Mon Oct-23-2023
Tue Oct-24-2023
Wed Nov-08-2023
Thu Oct-26-2023
Mon Oct-30-2023
Tue Oct-31-2023


Thu Nov-02-2023
Mon Nov-06-2023
Tue Nov-07-2023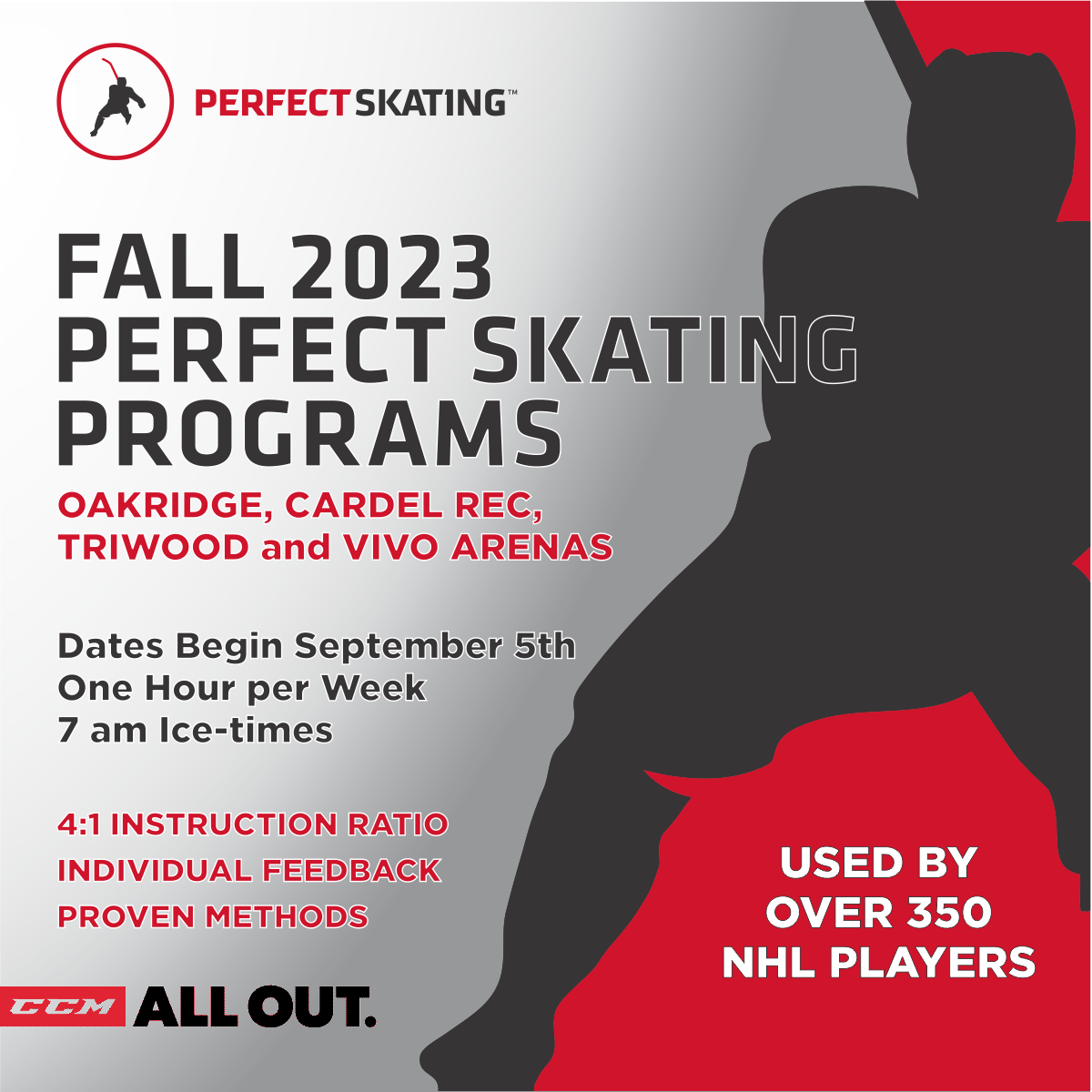 If you have any questions about Perfect Skating - Fall 2023, send us a message, we would love to talk to you!
Contact Perfect Skating
Calgary